Penny Round Mosaic Tiles

Penny Round Mosaic Tiles. Perfect for feature splash backs. Popular penny round tiles are a beautiful and versatile mosaic that deserve to take centre stage
What you need to know when considering using Penny Round Mosaic tiles.
Penny Rounds are beautiful versatile mosaics that deserve to take centre stage and be a feature of any modern bathroom or splashback.
The small size of the penny rounds gives you a lot of grout – not a bad thing when you want to use them on the floor in a bathroom. This means that although they have a gloss finish they do give you a nonslip surface.

If you are concerned about keeping that amount of grout clean on a floor where dirt and grime does build up, especially if used in a damp bathroom or as a splashback then make sure you use an epoxy grout. The epoxy grouts are as tough as the glazed tile if not more so and bacteria and grime build up is easily removed.
Lots of grout can also be used in your favour if you choose to make grout the colour feature on your walls. A white or black penny round with a coloured grout will give a great contrast to the use of a larger format tile with the same grout on other walls.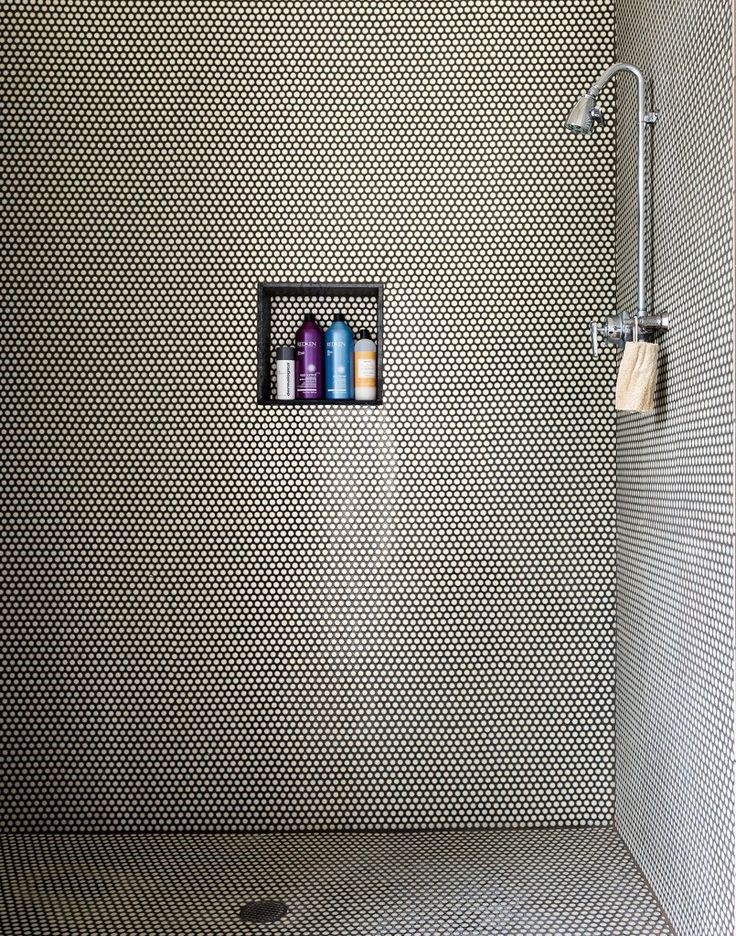 If you don't want the grout centre stage then the use of a grout in the same colour or shade as the Penny Round brings it all together and brings the shape of the tile to the front of the design element.
There is a great range of mixed shades. The difference in shades softens the look and texture of the tile. It can give the effect of a more natural element and complements the use of natural products such as wood or marble which have their own natural variations in colour and texture.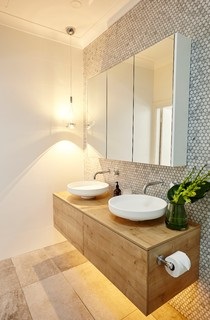 Contemporary Bathroom by Sydney Interior Designers & Decorators Alix Helps Interiors
The use of bold coloured penny round mosaics can lend itself to giving a retro feel to your design.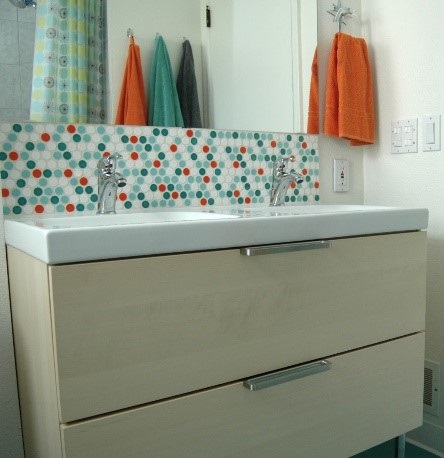 As with all mosaics the initial laying of the sheets of tiles is so important to achieve a good looking tiling job.There are some photos out there on the internet of some great looking penny rounds that just look ugly because the sheets have been laid unevenly making the difference in the gauge of the grout lines stand out. Why would you risk getting a finish just like they did? But, when you choose a good tiler that you can communicate well with then you have overcome the biggest hurdle in getting a good tiling job. Your Penny Rounds will deliver the design feature you planned on.
---
Leave a comment