Penny Round Tiles Get Glamorous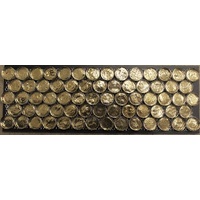 penny Round Tiles Get Glamorous Penny round tiles get glamorous with metallic backed glass tiles in a range of golds and silvers.
Penny Round Tiles Get Glamorous
Penny Round Tiles have been given a makeover raising these versatile hard working tiles into a real show stopper. You can now add some glamour and bling to your design using the new range of Glass Metallic Backed Penny Round Tiles.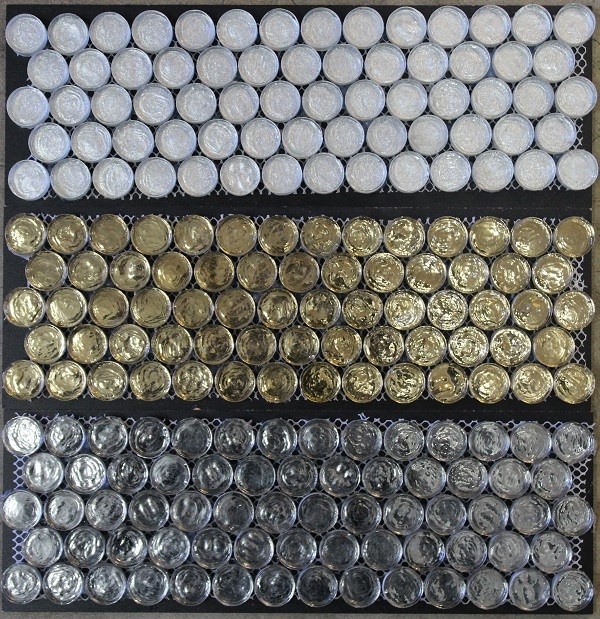 The 20mm round and 8mm thick glass tiles have a metallic backing in Gold, Platinum or Silver.
The rippled backing on the tile enhances the glimmer and shine of the Metallic finish resulting in a depth and richness to the texture of these Penny Round tiles.
Ideas to get you thinking of where to use metallic backed glass penny rounds.
Kitchens
The current trend of using warm metals for light fixtures over kitchen bench tops can be picked up and continued when you use the Gold metallic glass penny rounds in a splashback.

The Platinum coloured penny rounds have the same tone as stainless steel and could be used to tie in the use of stainless steel appliances in your kitchen.
Bathrooms
Gold metallic penny rounds would work well as a contrast to the trend of using black tapware. The toning of the Gold metallic glass penny rounds would also compliment the use of warm toned wood top vanities.

If you are using neutral greys or concrete look tiles in your bathroom the Platinum or Silver metallic glass penny rounds would add a subtle change of texture and introduce a touch of glamour but still keep the colour theme simple.

Click here to see the range of Penny Round tiles available at MDC Mosaics & Tiles.
---
Leave a comment